Cloud-based Testing Service "Developers AppKitBox" Now Includes Remote Control Feature to Aid Game Testing
November 27, 2014
NEWS
NTT Resonant, Inc.
Cloud-based Testing Service "Developers
AppKitBox" Now Includes Remote Control Feature
Tokyo, JAPAN – NTT Resonant now offers Remote Control Testing, a feature that allows users to test games that employ multi-touch using their smartphone as a controller, on their Remote TestKit service.
1. What is Remote Control Testing?
Up until now, users of Remote TestKit have had to use their mouse and keyboard to control the devices they were testing on the cloud. As a result, games that required more than one hand to operate could not be tested on our platform, but we are pleased to announce that Remote TestKit now supports Remote Control Testing, which allows you to use a smartphone as a controller to test multi-touch input. A smartphone controller not only lets you test how the game runs, but also allows you to experience playing it on a physical smartphone for more rigorous UI/UX testing. We are the first cloud-based smartphone testing service in the world to offer this feature (*1), and furthermore, it has been included in the basic feature set so current users can utilize it at no additional cost.
2. How to Use Remote Control Testing
Connect any smartphone with Android 2.3 or higher to a Windows or Mac computer and select "Activate Remote Controller" from the Remote TestKit settings menu.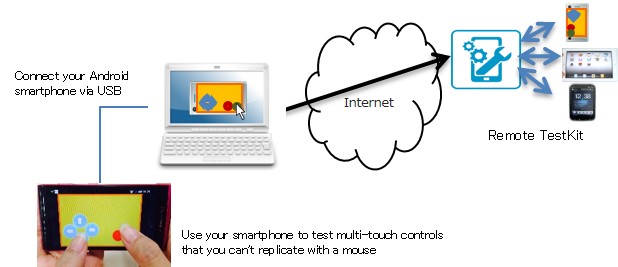 3. Additional OS Compatibility
Devices with iOS 8.1 and Android 5.0 have been added to Remote TestKit. Please check the Remote TestKit website for the full list of compatible models.
http://appkitbox.com/en/testkit/smartphone
4. Outlook for the future
We would like to offer an even more full-featured testing suite by making accelerometer and GPS data accessible to users. In addition, we intend to continue to add new device models and strengthen our automatic testing features to adapt to the ever-changing field of app/website development.
(*1) As of November 2014. Internal investigation.
以上