A New Way to Test Apps in the IoT Age! Cloud-based Testing Service Remote TestKit Adds Rapid Tester for basic test automation
A New Way to Test Apps in the IoT Age!
Cloud-based Testing Service Remote TestKit
Adds Rapid Tester for basic test automation
Test your app or website automatically on more than 300+ different devices.
https://appkitbox.com/en/testkit
Tokyo – July. 09, 2015 –NTT Resonant Inc. has added a service that can automatically run tests on their collection of more than 300+ smartphone models on Remote TestKit, their cloud-based testing service. This update also includes a completely renewed web browser interface.
Background
In this age of the Internet of Things (IoT), IT systems are becoming the backbone of our society and the quality of smartphone apps has become more important than ever. However, new phone models come out every season, and the associated costs to maintain this diversity of devices becomes higher every year. Still pre-launch testing is limited to few devices that developers could have their own. In average, those are only tens or even single digits of devices. Moreover, developers spend the most of time and make efforts on customer support and patching bug. To release these testing matters, Remote TestKit offers more than 300 different smartphone models, and saves your time from repeating similar testing processes on many devices by providing simple and easy automated testing function. With this, you can simply set once then execute basic tests on 300 devices, hands free, find bug before your users do.
(Reference) Android Access Rates
About 2,000 different kinds of devices accessed goo's homepage (*1) over a month, showing the enormous diversity in devices that are in use.
Access Rates for the Most Popular Android Devices (May 2015)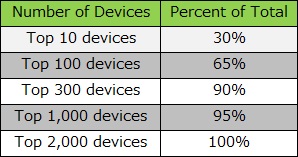 10 devices accounted for about 30% of all devices that accessed the site, and looking at the top 100 devices gives you about 65% of the whole picture. These figures imply that in order to ensure that all users would be able to use your site without issues, the site would need to be tested on hundreds of devices.
Outline of Rapid Tester
A. Three New Services
Rapid Tester consists of the following three services:
i. Test Storage Service
A private test storage that you can register the app you want to test, or to create web URL lists and keep them for next testing. Also, all of test results will be saved, providing downloads. You can use this test storage for both automated tests and manual tests with the registered app.
ii. Rapid test for Apps/Web – Selected devices
Smartphones you often test on can be added as a group. You can run a single test case on multiple devices at the same time. We also have a number of arranged groups based on manufacturer, operating system, or even popular testing devices among many users to make your testing go more smoothly.
iii. Rapid Test for Apps/Web –New Devices
When a new device model or a device with new OS version is added, Remote TestKit will automatically test on your pre-registered Apps and URL list  over on the new device and make a report. Tests are always carried out automatically whenever a new device is added to our cloud, so you don't need to worry about keeping a track on new additions of device all the time.
B.Details about Rapid Tester
i. Android App Testing
The following basic actions will be tested automatically and the screenshots will be taken as  results.
Step 1: Application Install and launch (0, 5, 10, 15, and 20 seconds after)
Step 2: Moving to and returning from the background
Step 3: Rotating the screen and rotating back
ii. Web browser Testing
Access multiple URL in the web browser and take screenshots.
Sample image of the test results below:
C.Function Coverage According to Pricing Plans
i. Flat Plan
A plan to have a full set of the service as much as you want at flat rate monthly.
ii. Ticket Plan
A plan to charge for certain length of time each month. Pay as you use.
— Monthly 10, 50, & 100
Applicable to use Test Storage & Rapid test for Apps/Web –
Selected devices
— Monthly 3
Please note that Monthly 3 is not applicable to using new functions. We hope you consider upgrade this to Monthly 10 or above.
Special Offer for using new functions
All current subscribers for Monthly 10, 50, or 100 Plan on July 9th  and new subscribers for the above plan by July 31st will receive a free Flat 1 Plan (valued at $550) , which you can use until the end of July. We hope you take try and experience  the full range of service with Flat Plan that are not covered with the Ticket (Monthly) Plans.
Exclusive Features of Flat Plan:
— Use any device as much as you want
— Rapid Test for Apps/Web – New Devices
— Simultaneous automated testing on multiple devices with Selenium
— Return devices without having to wait for the 30-minute minimum
For more details about this promotion, please visit the following page:
https://appkitbox.com/en/testkit/campaign201507
Redesigned User Interface
Remote TestKit can be used with  a web browser (Web version), or  dedicated client software (Client app version), or Thrift API. This time, we have completely redesigned the web version's interface, in order to provide better user experience.
New Features:
— More intuitive user interface
— Devices can now be sorted by categories, like manufacturer and OS version
— Swap easily between test devices that are in use
— Seamless integration with Rapid Tester
Home screen (Device selection)
Testing Devices
About Remote TestKit
Remote TestKit is a service that allows developers to test smartphone apps and mobile websites on the cloud. Users can remotely test on more than 300 different models, without purchasing the devices themselves. The service also includes a number of useful features — including automated tests, which allow a series of test cases to be run automatically — to make app testing easier on the developer's side.
Features:
– Over 300 different models available for remote use, including Android phones, iPhones, and tablets
– Automated testing can run test cases on multiple devices simultaneously
– Smooth video playback with low input delay
Official site: https://appkitbox.com/en/testkit/
*1 About "goo"
The portal site providing services that support customers' activities launched in 1997, the NTT Group's goo Internet portal site was Japan's first full-fledged Japanese language crawler type full-text search engine.
The names of the companies, services, and products mentioned in this press release are the trademarks of their respective companies.